WORLD WAR II MEMORABILIA
&
IMPERIAL GERMAN DAGGERS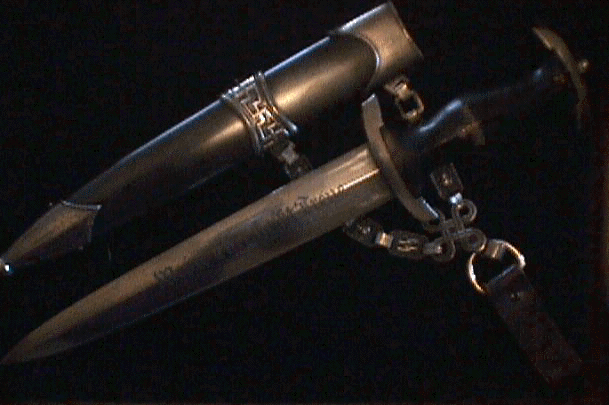 ---
THE NSFK WAS A PARA-MILITARY
ORGANIZATION FORMED IN 1937.
THE PICTURED NSFK DAGGER HAS
A 13" BLADE, IN EXCELLENT COND-
ITION, QUITE RARE & THE LEATHER
IS PERFECT. PRICED AT $1,000.
---
THIS BEAUTIFUL BLUE PANEL
HIRSCHFANGER IS DATED 1899
THE 20" BLADE IS INSCRIBED .
LEATHER SHEATH HAS BRASS
ENGRAVED FITTINGS. THE IN-
SCRIPTION ON THE PANEL HAS
NOT BEEN TRANSLATED ,BUT
APPEARS TO BE FORESTRY AWARD. A TRULY WONDERFUL DAGGER $2,200.
---
| | |
| --- | --- |
| | CONDITION AND BEAUTY MAKE THIS HIRSCHFANGER STAND OUT. WITH THE ATTACHED FROG, THE PIECE IS COMPLETE. THREE ACORNS IN THE BEAUTIFUL STAG HANDLE AND IT IS WHAT IT IS.$1,600. |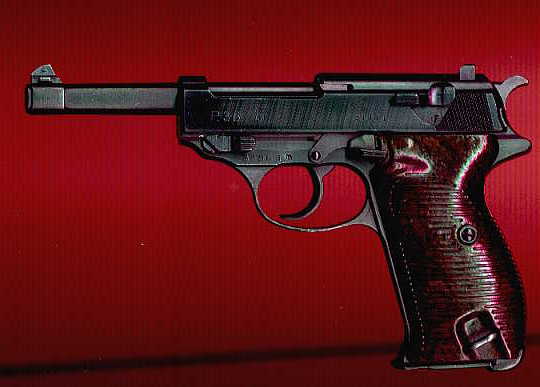 THE ABOVE PICTURED WALTHER P-38 IS ALMOST IDENTICAL TO A P-1.I USE THIS PICTURE BECAUSE IT IS MUCH CLEARER THAN MY PHOTO OF MY WALTHER P-1. I HAVE A SET OF THREE CONSECUTIVELY NUMBEREDP-1's WITH THE MANURHIN MARKING. THESE GUNS WERE USED BY THE WEST GERMAN POLICE PROBABLY IN THE 1970's AND EXPORTED TO THE USA. THEY OBVIOUSLY ARE NOT AS COLLECTIBLE AS A NAZI MARKED WALTHER BUT THEY ARE NICE GUNS. THEY COME WITH A HOLSTER AND EXTRA CLIP. THE SET OF THREE GUNS ARE $1,000. ALTHOUGH I AM ONLY A COLLECTOR, ANY TRANSFER OF THESE GUNS MUST BE DONE WITH THE PROPER PAPERWORK.


RATHER THAN USE VALUABLE DOWNLOAD TIME FOR PICTURES OF FORESTRY MEDALS AND NAZI MEDALS AND BANNERS I HAVE QUITE A FEW FOR THOSE WHO ARE INTERESTED. PLEASE ADDRESS INQUIRES BY E MAIL.
SSINGLE123@AOL.COM

HANDMADE KNIVES LIONEL TRAINS SKI COUNTRY DECANTERS
BEANIE BABIES BARBIE DOLLS REGIMENTAL STEINS ODDS AND ENDS
PLEASE SIGN GUEST BOOK ON THE HOME PAGE
THIS WEB SITE CREATED BY SINGLE CREATIONS