REGIMENTAL
AND
METTLACH
STEINS


METTLACH REGIMENTAL
STEIN STEIN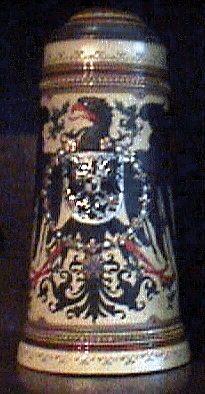 NUMBER 2204,1 LITER,ETCHED RAILROAD REGT. WITH ER
INLAYED LID, "BLUE MAX" A (EISENBAHN REGT) POTTERY,
PRUSSIAN EAGLE ON A TAN ROSTER, AND DATED 1906-08.
BODY. MINT AND DATED 1901 HALF LITER AND MINT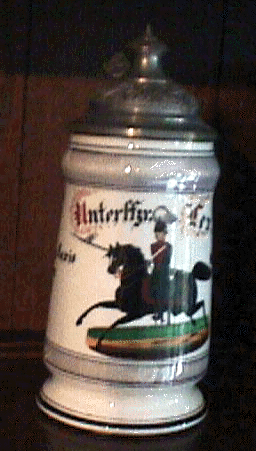 PORCELAIN REGIMENTAL WITH
LITHOPANE, NO ROSTER, MINT.
2 CHEVAULEGER REGT. TAXIS,
DILLINGEN GARRISON 1890-93.

---
THE ABOVE STEINS ARE EXAMPLES OF THE TWO TYPES OF STEINS, BOTH
HISTORICAL AND BEAUTIFUL, OCCASIONALLY I HAVE SOME OF THEM FOR SALE. IF YOU HAVE AN INTEREST, PLEASE EMAIL ME AND I WILL GLADLY DISCUSS WHAT IS AVAILABLE AND SEND YOU A DESCRIPTION AND PICTURE WHICH YOU CAN DOWNLOAD.


BEANIE BABIES
BARBIE DOLLS
SKI COUNTRY DECANTERS
ODDS & ENDS
ARMOUR DIECAST PLANES
HUBLEY CAP PISTOL
WALTHERS & LUGERS
BRITAIN TOY SOLDIERS
THIS WEB SITE CREATED BY SINGLE CREATIONS