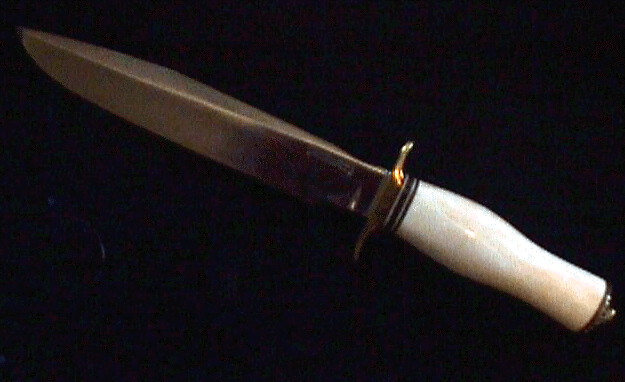 INVESTMENT GRADE
HANDMADE KNIVES
THE KNIFE MAKERS IN THIS COLLECTION INCLUDE:
BILL MORAN BUSTER WARINSKI JIMMY LILE
HERMAN SCHNEIDER DR. FRED CARTER
"BO" RANDALL BOB LOVELESS
DWIGHT TOWELL

A BILL MORAN 9" BOWIE WITH LIME
KILN MARKINGS, DATING THE PIECE
PRE 1972. CURLEY MAPLE HANDLE
WITH INLAID N/S SHIELD & FANCY
FILEWORK ON BRASS GUARD AND
TANG. A VERY DESIRABLE MAKER AND KNIFE..
---
TWO ENGRAVED DAGGERS BY FRED CARTER.THE TOP IS 6"WITH FLUTED, SILVER WIRE WRAPPED HANDLE IN
OSSIC. $3,5OO. THE BOTTOM PIECE
IS A 7 1/2"BLADE WITH A FOSSILIZED
IVORY, FLUTED, WRAPPED HANDLE.
$4,500. BEAUTIFUL AND RARE!!
---
TWO BEAUTIFUL BUSTER WARINSKI
DOUBLE EDGE DAGGERS. THE TOP
PIECE HAS A 5" 440C BLADE WITH A
FLUTED IVORY HANDLE AND FULLY ENGRAVED GUARD$3,500. BELOW IS A 5" BOOTKNIFE WITH A BIG HORN, FLUTED HANDLE AND N/S SHEATH. $4,500. EXQUISITE WORKMANSHIP.
---
JIMMY LILE WAS COMMISSIONED BY
THE TEXAS RANGER MUSEUM AND
LIBRARY TO MAKE 100 OF THESE
DAGGERS, IN 1977. IT IS KNOWN AS
THE MANUEL T. "LONE WOLF"
GONZAULLAS COMMEMORATIVE.
THE HANDLE IS SPIRAL FLUTED
IVORY. A BEAUTIFUL PIECE. $2,000.
---
A BILL MORAN FIGHTING KNIFE WITH
A 7" DAMASCUS BLADE AND WOOD
LINED SHEATH. PICTURED IN THE
BOOK "FIRE & STEEL", THE HANDLE
HAS INLAID SILVER WIRE DESIGN .
VERY RARE AND DESIRABLE AND
NOT FOR SALE.
---
TWO JIMMY LILE / LOCK FOLDING
HUNTERS WITH A 4" BLADE AND
IVORY INLAY. BOTH KNIVES WERE
MADE IN 1980. THE TOP FOLDER
IS HEAVILY ENGRAVED AND HAS
A NERVE CRACK IN ONE SLAB.$1500
THE BOTTOM KNIFE IS LIGHTLY
ENGRAVED WITH A ROPE SCRIM-
SHAW.$1,200. THE ENGRAVING
PROBABLY BY STEWART.


THE ABOVE KNIVES REPRESENT JUST A FEW OF THE KNIFE MAKERS AND
THE BEAUTIFUL PIECES THAT THEY CREATE. THEY ARE TO KNIVES WHAT
PICASSO AND MONET ARE TO PAINTINGS. IF YOU HAVE ANY QUESTIONS
EMAIL

SSINGLE123@AOL.COM

LIONEL TRAINS
SKI COUNTRY DECANTERS
WWll MEMORABILIA
REGIMENTAL STEINS
BARBIE DOLLS
BEANIE BABIES
ODDS AND ENDS
PLEASE SIGN GUEST BOOK ON THE HOME PAGE
---
THIS WEB SITE DESIGNED BY SINGLE CREATIONS

FAVORITE LINKS
AMERICAN BLADESMITH SOCIETY
STOUT HANDMADE KNIVES